Take action
Using my work skills to support Pancreatic Cancer Action
Since the COVID-19 crisis, my role as a business relationship manager within the IT department at Ivanti has been busier than ever with defining and executing on projects which drive change for the business.
I usually work from home, so I didn't struggle with adjusting to home-working. However, I don't usually have my two children at home with me whilst I work! For health reasons, we've also had to shield as a family (which means avoiding trips out, including to the supermarket). So in the first few weeks, I also had the extra pressure of trying to get supplies to us. I feel very lucky that we have some amazing neighbours who were able to help until we could get regular deliveries sorted out.
Pancreatic Cancer Action: Fundraising at Home
One of our neighbours, Lucy, works as fundraising manager for a local charity called Pancreatic Cancer Action. During one of our over-the-fence (suitably distanced) discussions, she told me about how the charity has been affected by the cancellation of their planned fundraising events. The charity is adapting to fundraising at home including their recent campaign Striding for Survival and Pyjamas for PanCan.
Even so, the pandemic has had a negative impact on their revenue and could impact the fantastic work that they do, including funding of the charity's support line. They have also had to unfortunately furlough some of their team and manage with only a couple of staff members.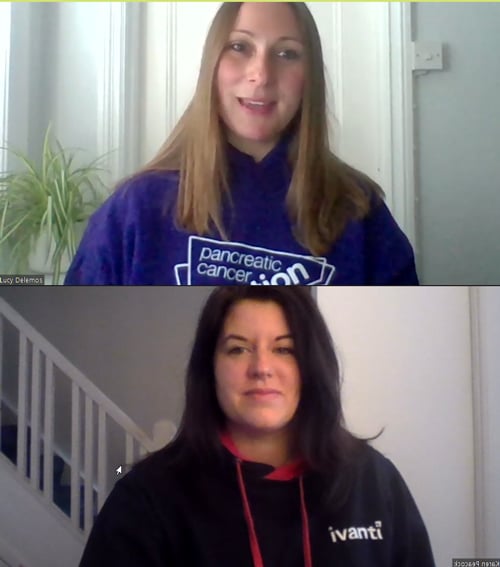 Like so many others, my family has been directly affected by cancer, and so I was really keen to help out if I could. I knew about Ivanti Cares which gives every Ivanti employee VTO (volunteer time off) to donate their time and efforts in an area of their choosing. I suggested to Lucy that I might be able to volunteer to help Pancreatic Cancer Action, and so we started putting plans in place.
Volunteer Time Off for Pancreatic Cancer Action
In true COVID-19 style, we of course kicked things off with a video call (which was a strange feeling when talking to someone literally next door) and then Lucy gave me her wish list of items they'd like my help with. I'm currently working through the list including providing help with getting their systems updated after their recent merger with a Scottish cancer charity.
I really appreciate having been given the opportunity to help use my experience at Ivanti to make a positive impact on such a wonderful charity during one of its toughest times so far.
---
If you would like to support us with your skills please contact lucy@panact.org
Thank you.
---