Uncategorised
NICE's new symptom–based approach will help to save thousands of lives from cancer
NICE's new symptom–based approach will help to save thousands of lives from cancer

Thousands of lives in England could be saved each year if the NHS follows updated guidance to help it diagnose cancer earlier, NICE says.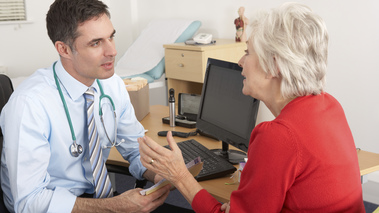 One in 2 people will be diagnosed with cancer in their lifetime. The disease is responsible for more than a quarter of all deaths in the UK; for many terminal cancer cases this will be due to a late diagnosis.
It is estimated that around 5,000 lives could be saved each year in England by making an earlier diagnosis of cancer.
Often patients present at primary care with symptoms that are non-specific.  Signs of cancer may also not be clear or obvious and GPs see, on average, only around eight new cases a year.
NICE has updated and redesigned its guideline to support GPs to recognise the signs and symptoms of 37 different cancers and refer people for the right tests faster.
In a change to its 2005 predecessor, the updated guideline uses a new approach – focusing on the symptoms that a patient might experience and go to their doctor with – to make its recommendations easier for GPs to use. It sets out clear tables linking signs and symptoms to possible cancers and includes simple recommendations about which tests to perform and the type of referral to specialist services that should be made.
NICE says this will make it easier for GPs to think about the possibility of cancer sooner and refer people for tests quicker. This in turn will mean more people receive an early diagnosis and subsequently, more cancers could be cured.
Professor Mark Baker, clinical practice director at NICE, said: "The best way to successfully treat cancer is to make an early diagnosis. The sooner the disease is identified, the more likely treatment is to be effective. Earlier diagnoses have the potential to save thousands of lives each year.
"This guideline uniquely amongst guidelines of this type presents the evidence on the way that patients present to their GPs. It reflects real life and we expect it to have a major impact on the success rate for cancer in England."
"No GP wants to miss a cancer diagnosis"
Dr Steve Hajioff, a director of public health, who chaired the independent group of experts which developed the guidance for NICE, said: "Traditionally, cancer referral guidelines have presented their evidence on a cancer by cancer basis because that's the way the research is done. However, that does make them very difficult to use if someone has a symptom that's related to multiple cancers.
"A symptom-based approach, in effect, takes a symptom, for example abdominal pain, or a set of symptoms, and brings them together to identify the potential cancers that it could be.  The purpose of this approach is to make it easier to use by primary care clinicians in a busy consulting room so that they don't have to wade through documents. They can look very quickly at the information to help them make an appropriate decision and so potentially fewer things are missed.
"No GP wants to miss a cancer diagnosis. This guideline will support them by encouraging them to think about the possibility of cancer sooner. Not only will it speed up the process of referral, enabling faster diagnosis, but its recommendations to monitor people with less severe signs and symptoms will mean fewer cancers are missed."
Professor Willie Hamilton, a GP and Professor of Primary Care Diagnostics at the University of Exeter who helped to develop the updated guideline, said: "This guideline is about getting the right patients to the right tests at the right time.
"Traditionally, GPs have always had some tests available such as blood tests, X-rays and some scans. This guidance expands this by bringing some tests that have been traditionally thought to be hospital tests under the wing of GPs. It will open the door for smarter testing so that people with cancer will receive their diagnosis much earlier. There is no doubt in my mind that this guideline will help to save lives."
Sara Hiom, Cancer Research UK's director of early diagnosis, added: "These new guidelines for suspected cancers will give GPs more freedom to quickly refer patients with worrying symptoms – crucial for a disease that can be hard for GPs to spot in primary care. This will mean diagnosing more cancers earlier, at a stage when treatment is most likely to be effective, better for patients and ultimately increasing survival."
National Institute for Health and Care Excellence. (2015).NICE's new symptom–based approach will help to save thousands of lives from cancer [News article]. Retrieved from https://www.nice.org.uk/news/article/nice%E2%80%99s-new-symptom%E2%80%93based-approach-will-help-to-save-thousands-of-lives-from-cancer